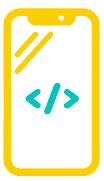 Mobile App Developer
Full-time, Part-time, Permanent
Norwich, UK
£30,000 - £35,000 a year
Do you want to be part of a creative and well supported EdTech start-up?
Studious is an exciting spin-off company from the University of East Anglia that is re-defining how students in the UK and across the world learn through innovative digital education. Could this be the dream job for you?
We are looking for a Mobile App Developer to lead the growing team of tech and creative professionals. You'll collaborate closely with the leadership, tech and design teams and support the continued development and deployment of our apps, including Ryze.
This is an amazing opportunity to get stuck into a long-term project that makes a real difference to society by re-imagining how people learn.
What will you be doing?
Enjoy ownership for app development and innovation;
Write code using javascript (React) or Dart (Flutter) among others;
Collaborate on the design of applications into workable solutions;
Explore innovation for new tools and services within our digital platforms;
Develop technical solutions to meet business requirements, ensuring compliance with best practice, and continuous code review;
What do we value for this role?
Experience working on scalable mobile and web applications (2 years+);
Experience working with React or Flutter and associated code bases and libraries;
Experience in converting UI design into shippable code;
Understanding of backend integration; using cloud systems such as AWS or Firebase;
Strong competences in creative collaboration, initiative, and attention to detail;
People that believe in a people first-fun-wellbeing workplace culture.
What can you expect?
At Studious, we operate a fun work environment that puts people as its top priority. We believe in an inclusive and supportive work culture that allows creativity to flow and everyone's opinion to be valued. We want everyone to enjoy their time at work and have continual opportunities for professional growth and development.
If you are interested in working with us, or hearing more about the Mobile App Developer position, then please get in contact anytime. We'd love to hear from you!
When applying, please show and refer to examples of your work.
Benefits:
Relocation expenses;
Flexible working (e.g. option to work from home several days per week; flexible hours);
Complimentary gym membership, quarterly wellbeing experience, or extra holidays;
34 days annual leave per year (nearly 7 weeks!);
Company pension;
Company events – e.g. regular team dinners out;
Free/complimentary travel;
Eyecare;
Opportunity to work with passionate colleagues in a creative work environment;
Chance to have a legacy in your work by changing the world of higher education.
Work from home opportunities
Flexible working hours
On-site parking
Company events & social hours
Subsidised gym membership
Company pension
Wellness programmes
Salary: £30,000.00 to £35,000.00 /year
Experience:
mobile app development: 2 years (Required)
APPLY ON