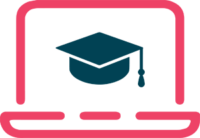 Digital E-learning Technologist (Junior)
Part-time
Norwich, UK
£18,000.00 to £22,000.00 /year
Do you want to be part of a creative and well supported EdTech start-up?
Studious is an exciting spin-off company from the University of East Anglia that is developing innovative digital learning media for students in the UK and across the world. Could this be the dream job for you?
We are looking for part-time digital e-learning technologists (junior/support roles) to design slick learning content for leading universities. You'll collaborate closely with the e-learning team, including the editors, designers and digital creatives, to support the development of learning content.
You may get the chance to collaborate with lecturers from across the UK and on projects involving leading brands (e.g. Vodafone, Aviva, L'Oreal) and take your professional development to new heights.
Check out our website at: https://studious.org.uk
What will you be doing?
Making learning inspiring through digitalising educational content for our cutting-edge platform (no coding skills required!);
Supporting the e-learning team and our academic clients – being creative with content, personalising learning and supporting the development of high quality courses;
Collaborating with designers, programmers and editors to convey branding and content in inspiring ways;
Exploring new ways to innovate and be creative within your work.
What do we value for this role?
Experience working with digital and/or media technologies;
Experience working in education, publishing or e-learning;
Eagerness to learn and show initiative;
Strong teamwork and communication skills;
Interest to be creative.
What can you expect?
At Studious, we operate a work environment that puts people as a top priority. We believe in an inclusive and supportive work culture that allows creativity to flow and everyone's opinion to be valued. We want everyone to enjoy their time at work and have continual opportunities for professional growth and development.
This post is initially for a 6-month contract.
If you are interested in working with us, or hearing more about the e-learning technologist position, then please get in contact anytime. We'd love to hear from you!
Part-time hours: 20 per week (Salary Pro Rata)
APPLY ON