Working from home during Covid-19 – how new hires are embracing the company's culture remotely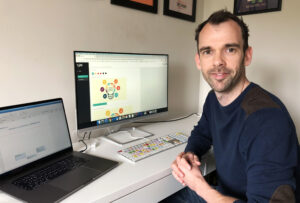 Andy Jordan, E-learning Technologist
While lockdown forced many businesses to furlough or lay off their staff – EdTech venture Studious has been busy building and running a new team remotely.
The social enterprise specialises in creating cutting edge educational app and immersive technologies for universities supporting them to deliver outstanding e-learning experiences. Since lockdown demand for high-quality digital education materials has increased bringing with it the need for a bigger team to deliver them.
That saw eight new starters join the business since April – from e-learning technologists, tech experts and a new academic partnership manager. And the business was keen to expand even before the government's recent announcement to encourage firms to take on more staff.
But what's it like to start a new job remotely when you haven't even met your new boss or fellow colleagues in person?
Isobel Pedley, who joined in April as an e-learning technologist, says she is enjoying the remote-working experience so far.
"Studious have been brilliant," she says. "They've given me a laptop, a desk and a chair, which was great because I was unemployed for a couple of months before I got the job. I've never actually been to the main office (based at the Enterprise Centre at the University of East Anglia in Norwich), apart from the Sportspark and gigs, so I'm really looking forward to going back."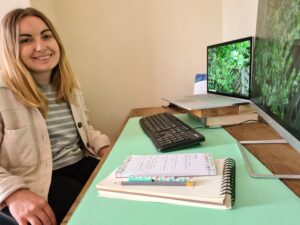 Isobel Pedley, E-learning Technologist
Another addition to the team, Film fan and e-learning expert Andy Jordan joined Studious in May.
"It was May 4 – Star Wars Day, so I'll never forget it," he says.
And a love of video and the moving image has been a driving force behind his move into e-learning.
Although they haven't met physically because of the Coronavirus lockdown, Andy says that working with his other e-learning technologist colleagues via Zoom has been a great experience."
"We're always bouncing ideas off of each other," he adds. "We have a weekly meeting where we review what we have done, and we all check each other's work and give feedback."
Tom Alabaster, mobile developer, joined the team in June but had a slightly different experience to his colleagues:
"The team have all been super friendly", Tom says. "Having been able to meet half of the team before lockdown, I was able to really quickly meet those I haven't yet met via some of the weekly catch-ups amongst the different sub-teams."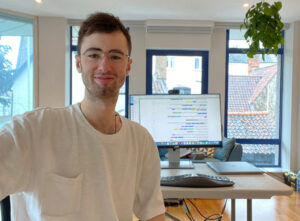 Tom Alabaster, Mobile Developer
"With Zoom and Slack, you rarely feel disconnected from your colleagues, and with remote working tools becoming more widely used they felt like second nature anyway. The quick adoption of remote working tools within Studious has been able to make joining a new company feel as normal as possible; whatever normal now is!"
Managing the team remotely, Ivan Mitchell, Studious CEO, says: "It's fair to say that there have been challenges coping with the logistical issues that the Coronavirus outbreak has brought.
"Normally, the team would have all been working together under one roof at our offices at the University of East Anglia in Norwich. However, five of our new recruits have yet met in person, and all our recruitment was also done virtually."
"But instead everyone has bonded through weekly virtual team meetings via Zoom while also managing their work through the Slack platform. Team spirit has also been nurtured through quiz nights too.
"Far from being put off our stride, the lockdown has allowed us to adapt quickly to new ways of working."
About Studious:
Studious is a social enterprise founded in 2019 by Ivan Mitchell, Sarah Warnes and James Gardiner, three academics from the UEA and UCL. The venture specialises in creating innovative digital learning experiences to complement classroom-based teaching.